The RTX 2060 and 1660Ti are two midrange Nvidia GPUs fully capable of complementing ryzen 5600X/i5-11600K processors. In this post we'll find which one of them offers better value for money
Nvidia is known for making amazing GPUs and also making 3-5 additional versions of them until it's hard to know exactly what the heck you are even purchasing! The latest generation produced incredible models capable of Ray-Tracing.
The RTX 20-Series was pretty simple at first, mostly consisting of the RTX 2060, RTX 2070, and RTX 2080.
What has confused those looking to pick up a new modern GPU is that they then circled back to the GTX 10-Series and redesigned budget cards that were Ray-Tracing capable albeit at a heavy cost.
Nvidia RTX 2060 vs GTX 1660 Ti
That has brought us all the way from the 1060 to the 1660 to the 1660 Super and the 1660 ti. If you are confused about all of this, that's ok. What Nvidia has done is created two incredible and affordable cards that offer really good value and we're here to clear up the confusion that you have.
1. The GTX 1660 Ti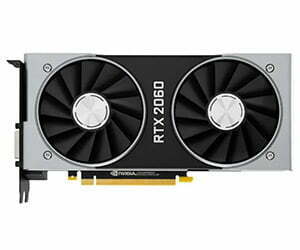 The GTX 1660 Ti is an interesting card, it's really powerful, affordable, and generally gets you into that amazing Nvidia ecosystem (My G-sync monitor is maybe the best purchase ever). After three iterations though, it's probably game into its own as the defacto 1080p GPU from Nvidia.
Most games are going to exceed 60 fps and you'll even get access to the amazing Ray-Tracing tech that is out there. Do be warned that it doesn't have dedicated hardware for Ray-Tracing like RTX and your framerates will be taking a hit due to that.
Describing CUDA cores and all that technical knowledge isn't that helpful to the average person, rather I would say, you can play the Witcher 3 above 60 FPS and many modern AAA games above 60 FPS at the best settings.
CPU intensive games like Assassin's Creed may kick this a bit but if the rest of your system is good, you'll get the quality you want. That's the good news, the bad news is that I don't honestly know where this card falls in the scheme of things. It's honestly a great GPU but Nvidia is self defeating.
They offer a far superior card for a pretty minimal price difference. You can get so much more with it's RTX cousin that it's hard to really say the value is here. We're talking FPS differences that make saving that money for a more expensive card way worth it.
Pro
Fantastic at 1080p and really affordable
A great card for budget systems that don't plan on moving to 2K anytime soon
Con
No dedicated Ray-Tracing hardware
Our Take
Struggles to hit 60 FPS with 2K games
2. RTX 2060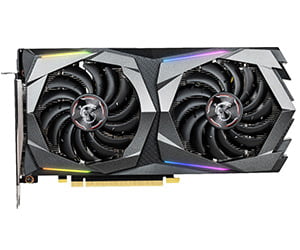 The RTX 2060 is a really great card despite being around 1 ½ years old. For those of us still doing 1080p or considering 1440p this is one of the best entry-level options. It'll allow you to game above 60 FPS in a lot of 1440p situations while shamelessly going off the charts in 1080p games.
Nvidia actually did a nameless refresh of the model which boasts many of the same specs but is a bit bigger at a dropped cost. If you spend even more money the 2060 even has a super version but once you get into that price range, you may be thinking about a larger GPU in general like the RX 5700 XT. I love the RTX 2060.
A couple years back I purchased the 970 and found it was the best balance of power and price on the market. The 2060 is similar in terms of being rather affordable and yet uniquely powerful (Outperforming the 1070 Ti even). It's the sort of best value that you can find in the current GPU generation.
That means you won't be held back gaming in 2K gaming. This is really the card you want if you don't have a ton of cash but want to buy something that'll last for a few years.
Almost everything about the RTX 2060 is a win. The RTX series also has access to the DLSS technology that is advancing anti-aliasing in the same way that we saw a huge jump in quality with G-sync and making frame rates smooth. This is a beauty of a card!
Pro
Dedicated Ray-Tracing Hardware
The clear powerhouse of the two
Best Value
Con
More expensive
Not meant for 4K
Head to Head
Putting these cards head to head reveals who the real winner is pretty quickly. The RTX 2060 annihilates the GTX 1660 Ti in terms of frames often running ahead by 30-40 fps whether it's 1080p or 2K.
My Choice
The RTX 2060. I think it is the best value and as a PC Gaming fanatic, I'd rather save a little more money and buy something better than spend 4-5 year until the next upgrade feeling sad. The GTX 1660 Ti is a great card but the value just isn't there when it's held up to the value that the RTX 2060 bring.
The biggest deciding factor is what format you game in
Ultimately what will really affect this decision is your resolution. 1080p is starting to show its age with even amazing AAA games incapable of producing the quality that a resolution bump results in. If you want graphics with less jagged edges and a lot more room for details, the bump to 2K is a win win.
I made the transition around 2018 from 1080p to 2k. I ended up with 70 percent more screen space and some amazing graphics.
Games popped and I realized I was held back a lot from enjoying modern games by a lack of defined graphics and clarity. I had fantastic times gaming on 1080p for years but for me this is an easy choice.
Thanks for joining us!
I hope you feel a bit more comfortable looking for a GPU amidst the large and somewhat confusing NVIDIA demographic. Buying a new GPU is the BEST choice you can make to bump up your framerate and get that buttery smooth gameplay with today's best games.
If you need a GPU that nails the best value of today, consider picking up the RTX 2060. As always, keep coming back for more articles on the latest and greatest technology of today.