The best thing we like about computers is the huge headroom for customization. There are hundreds of hardware combinations you can use to build your gaming PC.
But while it gives a lot of flexibility to PC gamers, it makes it difficult to estimate whether a PC game will run perfectly on a computer or not.
A single Modern AAA title can cost more than $50. It means you should always check its compatibility with your computer before making a purchase.
Minimum/Recommended System Requirements
Whenever a new game is released, its developer publishes its minimum and recommended system requirements.
Although PC consists of a lot of hardware components, the only components listed in the requirements section include CPU, GPU, Storage Space, and RAM – as these are the most critical when it comes to gaming. On the software side of things, you get OS and DirectX version requirements.
Finding these requirements is pretty easy. There can either do a google search for "[PC Game] + system requirements" or simply go to the Steam listing of that game. The second method is more reliable as Steam is a big brand and the requirements listed there are meant to be accurate.
Minimum requirements are the bare minimum you need to run a PC game. If any one of your components is less capable than what's mentioned in the minimum requirements, then that game simply won't open on your computer or will crash every time you run it.
For example, the minimum requirements for Assassin's Creed: Odyssey include AMD FX 6300/Ryzen 3 1200/Intel Core i5 2400 processor, AMD Radeon R9 285/NVIDIA GeForce GTX 660 graphics card (with 2 GB VRAM), 8 GB RAM, and 46+ GB storage space (doesn't matter if it's HDD or SSD).
With that said, minimum requirements will only provide the less ideal frame rate and can ruin your whole gaming experience. Therefore, you should always aim for recommended system requirements as they will give you at least 60 FPS at 1080p.
Continuing our above example, the recommended system requirements for Assassin's Creed: Odyssey are AMD FX-8350/Ryzen 5 1400/ Intel Core i7-3770 processor, 8 GB RAM, AMD Radeon R9 290/NVIDIA GeForce GTX 970 (with 4 GB VRAM), and 46+ GB storage space.
With that said, you should take these generic requirements with a pinch of salt. There are many in-game settings (mainly screen resolution and refresh rate) that can put more load on your graphics card and processor.
Finding Your PC Specs
Once you've found system requirements for the game you want to buy, it's time to find your own PC specs.

To find CPU and RAM specs, right-click on the Windows start menu icon and select 'system' to get CPU and RAM specification.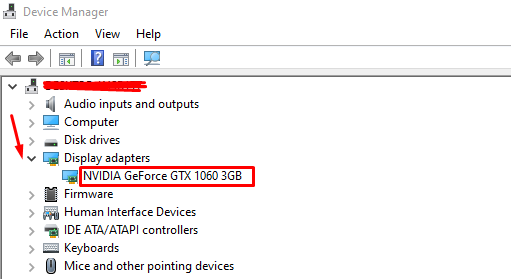 To find GPU specs, right-click on the Windows start menu icon and select 'device manager' from the menu. Once you are in the Device Manager, click on the arrow next to the 'Display Adapters' sub-menu to see your GPU model number.
Conclusion
Once you've found your CPU and GPU specs, as well as what's minimum/recommend it's finally time to compare them. For this, you can use a comparison website like game-debate.com/. It's not perfect but will give you a good idea of how powerful your hardware components are.
Here you can enter your CPU/GPU and what's listed for that game you want to play. If your components are more powerful, then you're good to go.